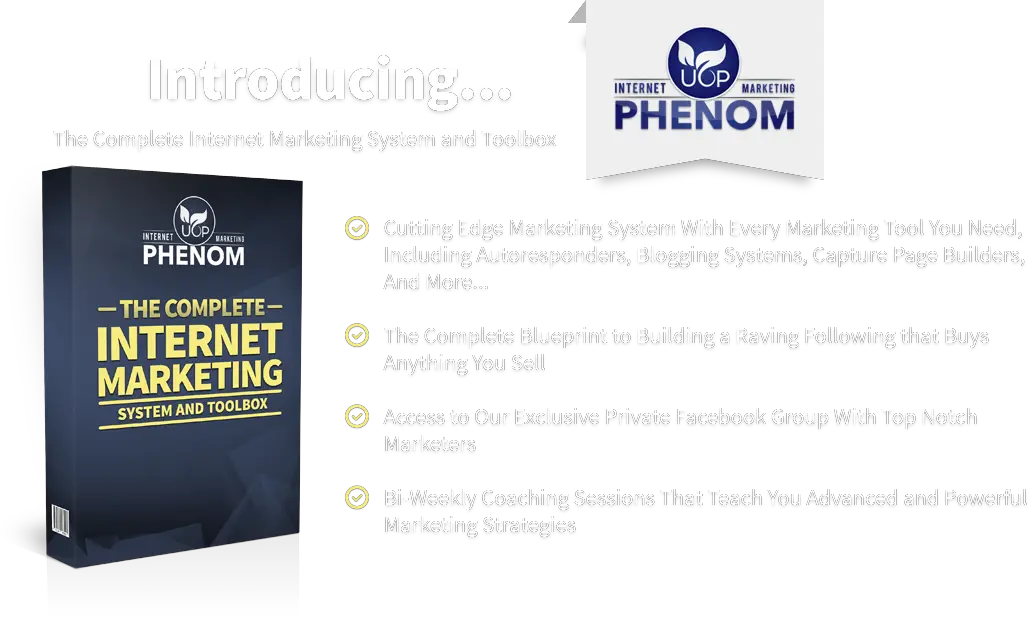 IM Phenom Marketing System – Massive Set Of Marketing Tools
IM Phenom Marketing System – Massive Set Of Marketing Tools – The Most Complete System to Marketing Online
Here's a Glimpse of the Marketing Tools Inside IM Phenom:
Autoresponder Software
Host unlimited subscribers and save a huge amount of money.
Pay ONLY for emails you send (just $1 for 10,000 emails)!
Easy Blogging System
Create up to 5 blogs, and use the power of content marketing to
get ranked in search engines and get free traffic. Easy and quick to set up, and you can use it for any niche.
Capture Page Builder
Create awesome, high converting capture pages in seconds and
start collecting a list of leads!
Webinar system
Launch your own webinars and quickly build a massive list and following
Advanced Link tracking
Easily track, cloak, and shorten links for split testing
Video hosting
Upload, share, and embed your videos quickly and easily
Personally brand your domain name
Create your own domain name and brand
Shopping cart
Sell products with an already set up shopping cart system!
Popups
Create awesome, custom popups
SMS/text messaging
Market through text messaging (up to 95% open rates)!
Voice broadcasting
Instantly connect to people who don't have Internet access
This is why IM Phenom is so revolutionary: We've equipped you with all of these marketing tools and more, PLUS a complete course on using those tools to create a loyal following that is thrilled when you release your next product.
This complete set of marketing tools would typically cost you hundreds of dollars per month in total.
But we're giving you the entire suite of marketing tools at one small monthly cost.
The tools alone are worth their weight in gold! But we're not stopping there.
We're Also Giving You The Step by Step Blueprint That Will Bring
You From Internet "Nobody" to Internet "Celebrity"
We've created the most in-depth course ever released on branding and marketing.
We'll Also Give You Bi-Weekly Coaching Sessions That
Will Teach You Advanced Marketing Strategies
And Exclusive access to a private Facebook group
If you're ready to start building a massive fan base that will buy any product or service you want to sell, click below: