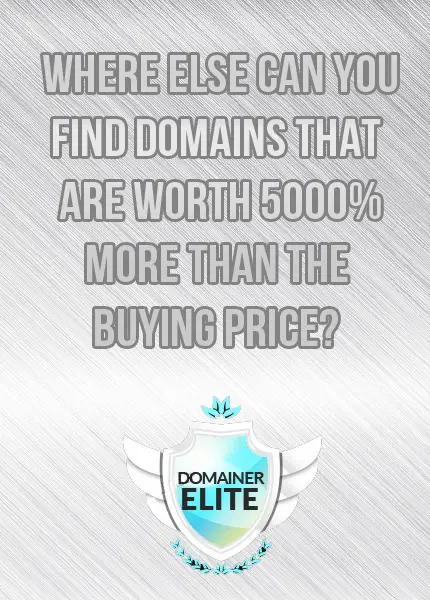 Domainer Elite – Finding, Buying And Selling, Flipping Websites
Domainer Elite – Finding, Buying And Selling, Flipping Websites – there are millions of valuable domain names still available, that you can buy for $8-$12 and sell for much more than that.
*The front end offer is a domaining "course" for $20, covering how to find valuable domains, market them and sell them. Members have access to tons of resources to the left side of the members area, including list resources, auction sites, logo design, site building and more. The instructional videos and case studies show actual domains being sold and the entire process. I reveal the recipes, how much to price domains and sites for, what to expect, what reserve to use, etc. It's top notch, tested stuff.
*The first upgrade is our Domaining software. Our software was designed by me and programmed by the best in the business. You select the keyword, click the button and you'll get tons of hot domains that show up in the "results" box. At that point you can appraise as many as you want.
*The second upgrade is an unlimited ticket to my webinar class for only $67. This price is unheard of as I have done over 400+ webinars and continue to do them, so for only the price of a plane ticket to Ohio your customers can attend all of my classes for the next few years!
*The third upgrade is actual assistance for your customers domain auctions and Flippa listings created for you. This service is $297 discounted from $997. If your customers need to see how to set up auctions for their domains with the correct pricing, this is an amazing opportunity for them.
In our sales page, we repeat the mantra "Buy low, sell high" which is the honest truth. Many people do not know about this huge opportunity which is TIME SENSITIVE. Yes, domains are being bought up, but there are many domains still available, but the hard part is finding them. Hence the need for our recipes and software.
We cover singular domain selling, brand name selling, starter site selling, established site selling and "package" domain selling.
Discover how to get $3000, $5000, $10000, $25000, $50000+ Appraised Value Domains for $9.00!
Domainer Elite – Finding, Buying And Selling, Flipping Websites