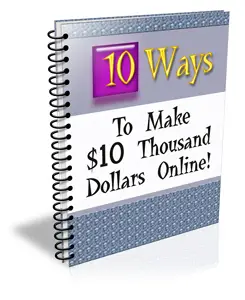 Ten Ways To Make Ten Thousand Dollars – PLR Business In A Box
Ten Ways To Make Ten Thousand Dollars – PLR Business In A Box – simple, proven strategies that you can use to break the $10,000 dollar mark.
Inside this special report you'll discover simple fact's, tip's and proven strategies that will help you blow past the magical "six figures a year" milepost…and start making $10,000 a month online!
•How to Team Up With Other Marketers For Fast Profits!
•How You Can Type Your Way to $10,000!
•How to Tap Into the Backend Profits Automatically!
•How to Really Take Advantage of eBay!
•How Targeting Other Marketers Can Make You a Fortune!
The report is completely customizable. You will be able to add in your own contact information, product and service recommendations and links to your favorite affiliate programs. I'm even including a ready to go to squeeze page confirmation page and sales page, so that you can get set up quickly and easily!
The "Ten Ways to Make $10 Thousand Dollars Online" Short Report package contains everything you need to start using and selling it right away, including:
•A copy of this sales page
•1 ready to go download page
•23 Page customizable report
•1 ready to go squeeze page
•1 ready to go thank you page
•A complete graphic package
•+ the editable PSD graphics
All for Only $7.97, as I write this!
Ten Ways To Make Ten Thousand Dollars – PLR Business In A Box