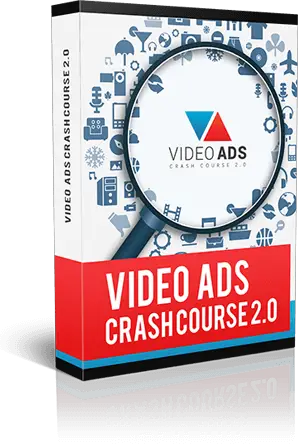 Video Ads Crash Course 2.0 By Justin Sardi
Video Ads Crash Course 2.0 By Justin Sardi – Laser Targeted Video Traffic at Only 1 Cent Per View, GUARANTEED!
Here's What Video Ads Crash Course Will Do For You:
•Gives you access to TARGETED traffic on demand (simply point the video you want traffic to and press 'Go' with the strategies outlined to you
•Drives massive targeted traffic to your website for as little as pennies per click
•Helps increase ROI's on your campaigns so you make more money with less ad spend
•Shows you how to lower your cost per click while increasing the quality of the prospects you are reaching – so you have higher overall conversion ratios and put more cash in your pocket
•Teaches you how to setup a profitable video campaign in under an hour (including making the video, writing the ad, and posting everything to generate targeted traffic)
•Gives you advanced secrets to getting your ads to convert at higher click-throughs than your competitors
•Enables you to understand which analytics and metrics are key to track and which are not… this ultimately gives you greater control in knowing what is performing best and what truly needs tweaking
•Shows you how to generate quality traffic to affiliate campaigns, your own promotions, and client projects as well… which gives you the skill to generate revenue on demand… and that ultimately gives you true peace of mind knowing you can always make money
•Empowers you with proven templates, proven ad formulas, and proven profit pulling strategies which you can use immediately to build your business (and income) to the level you choose
Plants control back in your hands for generating massive amounts of dirt cheap targeted traffic to exactly where you want (and zero waiting on video SEO strategies to hopefully work, this is almost instant results you see immediately)
The Complete "Video Ads Crash Course 2.0″ Training
◦Full coverage of the various types of ads you can leverage – Value: $97.00
◦A break down on getting the most out of each ad – Value: $97.00
◦A complete, over-the-shoulder view of campaign and sales funnel setup – Value: $97.00
◦Sought-after secrets of tracking and supercharging your conversions – Value: $97.00
◦A full breakdown on building a complete Video Ad Sales Funnel – Value: $97.00
◦Advanced targeting and training methods for exponential growth – Value: $197.00
◦Landing Pages for your Video Ads – Value: $97.00
And you're also getting:
•Neil Macpherson's Copy Crash Course – Value: $97.00
•Producer's Playbook – Value: $47.00
•Access to Private Mastermind Group – Value: $197.00
•Adwords for Video Local Edition – Value: $97.00
•In-Stream Video Scripting Template – Value: $147.00
•The 9,159% ROI Case Study – Value: $97.00
AND IT'S ALL UNDER $30!
This entry was posted in Youtube/Video and tagged video ads, video ads crash coruse 2.0 bonus, video ads crash course 2.0, video ads crash course 2.0 review, video advertising, youtube ads, youtube advertising on by Andrew Larder.


ASINSpector: Amazon. Shopify, E-Com Research Tool

ASINSpector: Amazon. Shopify, E-Com Research Tool – Researching Amazon Just Got A Whole Lot Easier!

ASINspector integrates into your Google Chrome browser as an extension, streamlining your product research. Extract rank, sales volume, estimated revenue, find out where it is being sold on other sites, source product and more without ever exiting your browser. Simply type a product in on Amazon and instantly get results and do this in multiple countries.

Know Best Seller Ranks

Quickly know who is the best seller of any product and if there's room for competition. This is the simplest tool to find hidden gems and source pricing instantly!

Category / Nodes

Instantly know every category/ node a particular item is listed in. This software makes it very easy assisting/ researching your listing and gives you intel of what nodes you should be focusing on

Source the Product Quickly

Easily source the cost and availability of product on Aliexpress, Alibaba or E-bay to see if it's worthwhile competing in that niche in seconds.

Revenue Estimator

Know estimated monthly sales volume instantly to see if it's worth competing with on your e-com site or selling platform

Instantly know Ratings

Product review statistics, including number of reviews and the average star rating are neatly displayed.

Product Pricing

Be able to know what other competitors are selling the product for such as Walmart or Ebay instantly with one click.

All for $67!