Interactive Video Player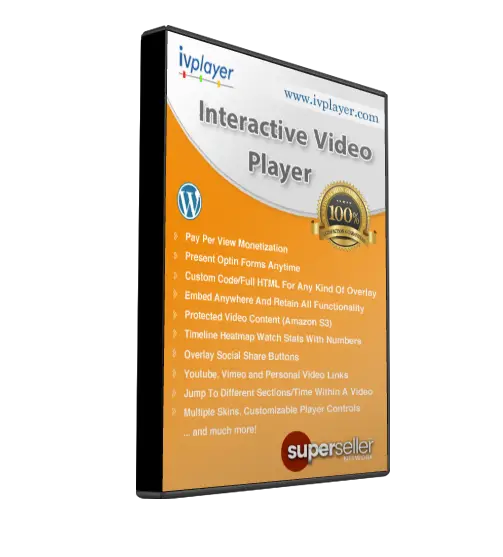 #Interactive Video Player From #Richard Wing – Customizable WordPress #Video Player
Interactive Video Player From Richard Wing – Customizable WordPress Video Player – New Video Player Technology Increases Engagement, Boosts Your #Traffic, Leads, #Sales & Profits. Use It Anyplace You Want To Show Off Your #Videos – In Or Outside Of WordPress.
Fully Customizable, Display Anywhere, Video Player:
Inline Autoresponders Integration
Pay Per View Monetization
Custom Code/Full HTML For Any Kind Of Overlay
Present Quizzes, Polls, Exams
Player Works Anywhere. PHP & HTML Sites
Protected Video Content (Amazon S3)
Overlay Notes & Hints
Markers With Different Color, Size & Duration
Timeline Heatmap Watch Stats With Numbers
Overlay #Social Share Buttons
Youtube, Vimeo and Personal Video Links
Present Optin Forms Anytime
Jump To Different Sections/Time Within A Video
Jump To A Completely Different Video
Multiple Skins, Customizable Player Controls
… and much more!
Interactive Video Player Has Another Powerful Feature Worth Mentioning. All Players Can Be Posted Into Any Facebook Page App And All The Interactivity Stays Intact
With all these interactive possibilities it is understandable why early adopters have been giving them praises for increased engagement, boosting their traffic, their leads, sales & profits.
Head on over and take a closer look. You won't want to miss out:
Interactive Video Player From Richard Wing – Customizable WordPress Video Player