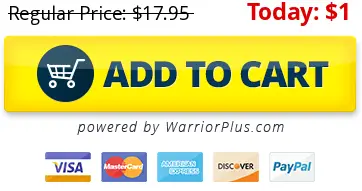 Super Fast Product Creation – 7 Videos Showing The Entire Product Creation Process – $1!
Super Fast Product Creation – 7 Videos Showing The Entire Product Creation Process – $1! – How to create a digital product and get it ready for sale in record time. An excellent introduction to creating digital products that start to grow your buyers list.
Creating digital products is super-simple.
They're usually in one of three different formats:
•PDF reports – superficially the simplest but most of the time the most difficult to create. That said, I'll suggest some ways you can make even these products quickly and easily and offer high value to your customers.
•Audios – regular MP3s that can be played almost anywhere. Audios are the most flexible digital product you can make, the recording software is easy to use and free (even though it's incredibly high end and you could use it in place of a professional recording studio) and customers like audios.
•Videos – no longer the preserve of expensive video recorders and scary lighting sets. You can make these on your own computer with professional software that's free (with a small watermark but your customers won't care about that) or $15 a year. Or you could use your phone or Google Hangouts. I don't specifically cover either of those but you don't have to be a rocket scientist to press "record" on a phone and I'm told Hangouts aren't too scary once you get used to them although the geeks at Google could usefully make them a lot more intuitive than they currently are.
First, you need to create your new digital product.
I'll take you by the hand and show you everything you need to know.
There are 7 videos in this series:
•Video 1 is an overview of the entire process. It's worth watching so that you know what's going to be involved and aren't constantly asking yourself what's coming next.
•Video 2 suggests the tools you'll be using. Whether that's the free program to turn your words into a PDF or the free audio recorder or the free (or cheap) screen recorder. They're all covered in this video plus the free tool that will strip out the audio from your videos so you don't have to re-record everything if you want to add an audio offering to your video product.

•Video 3 goes into the nitty gritty of creating your product. Several different styles you can use and this whole video series is a living, breathing, example of the style I've used for several years that works well for me.

•Video 4 shows you how to create a download page for your newly created digital product. Including using YouTube to host your videos without them appearing in the search results – so you don't have to worry about bandwidth limits or anything else.

•Video 5 goes through the process of writing that all-important sales letter. It could be much like this one – list the contents of each video and let people make up their own mind. It certainly doesn't need to be complicated to be effective.

•Video 6 shows you how to set your offer up on Warrior Plus. They host all kinds of offers – not just internet marketing ones – and their support is good. Plus their system has lots of built in checks to help make sure you get things right.

•Video 7 wraps it all up.
And if you've got your thinking cap on, that summary tells you how to lay out your new digital product: split it into a decent number of sections and then write or record something going into more depth on each section.
It really is easy.
Super Fast Product Creation JV Page:
•Main product: 7 videos showing the entire product creation process from getting the idea, creating the product and putting it up for sale. Brand new product. Priced at $1!
•OTO 1: Niche selection videos – how to drill down to choose the perfect niche. Priced at $3!
•OTO 2: Sales letter creation. Watch over my shoulder as I write a sales letter. Priced at $5!
•OTO 3: Advanced product creation. Series of videos that go into depth on creating products – everything from freebie (squeeze page style) giveaway products through to $27 and upwards products. Priced at $9!
•OTO 4: Internet Marketing Vault. Membership site priced at $97 for lifetime membership.
First, learn hoqw to create products, in 7 video course, for only ONE BUCK:
Super Fast Product Creation – 7 Videos Showing The Entire Product Creation Process – $1!