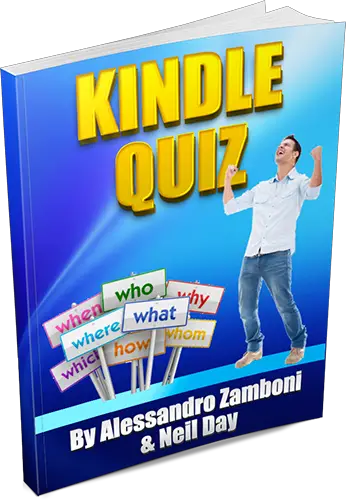 Kindle Quiz By Alessandro Zamboni
Kindle Quiz By Alessandro Zamboni – Kindle Quiz is a new course that shows how to build a Kindle book about quiz or trivia in less than 3 hours. A brand new hot niche!
"Kindle Quiz" is a fresh study about the exploding quiz and trivia genre. Inside the guide readers can find a step by step tutorial on how to create their quiz ebook, with easy tutorials and screenshots.
We move from the idea to the creation phase, showing the three most wide spread types of ebooks. We also show 11 sites where they can build their questions and find the right answers, plus 28 websites for finding copyright free images that can be used for commercial purposes.
We also show how to create the ebook, publish it on the Kindle marketplace, and, last but not least, in the final chapter we give many ideas on how to generate traffic. This is a completely new market waiting to be discovered and conquered, and now is the right moment to jump in by producing various ebooks that are not yet present on the marketplace!