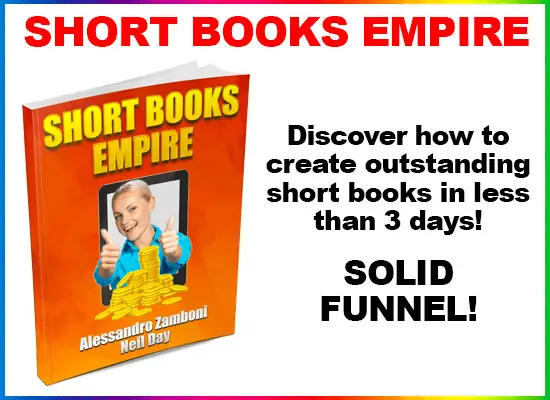 Short Books Empire – The Easiest Way To Create Non-Fiction Kindle Short Books
Short Books Empire – The Easiest Way To Create Non-Fiction Kindle Short Books – Create Outstanding Short Books In Less Than Three Days!
This is the best course to create non-fiction Kindle short books in less than 3 days.
This product helps all Kindle authors to create and release powerful short books in just 3 days, inside the non-fiction Kindle niche.
Authors know how difficult and time consuming it is to launch a new book on the Kindle marketplace, especially long ones. So why not create short books, perfect for today, a moment in which people do not have much free time and which can be read on the move.
Our training takes the reader by the hand showing them what to do with simple step by step training. They will learn:
•The advantages to writing a Kindle short book.
•The characteristics of a short non-fiction book.
•The recommended number of words for a good short book.
•The 8 book niches that sell like crazy.
•The way to build each one of these books in 3 days.
•The ebook creation process from A to Z.
•28 places where you can grab commercial-use free photos
•The 6 steps to upload your book like a pro on Kindle.
•Keyword search tactics to get ahead of competitors.
•4 steps to get a constant flow of traffic.
•26 free websites where you can submit your books.
•Our secret "next steps" to get your businessup and running.
•And much, much more!
This is a solid, doable plan that can bring huge results just after the first week of writing. Creating ebooks your followers will be proud to read! And creating and building a legacy of books that will also help create a full time income from writing, instead of those big books that end up giving you more problems than advantages.
Just $9.95, Right NOW:
Short Books Empire – The Easiest Way To Create Non-Fiction Kindle Short Books