Convertifire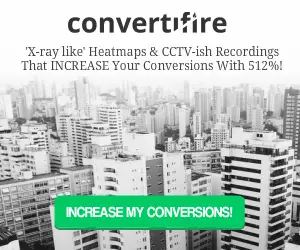 #Convertifire – Spy On Website Visitors & Customers With Heatmaps And Behavioral Recordings
Convertifire – Spy On Website Visitors & Customers With Heatmaps And Behavioral Recordings – Plus more feedback tools like polls, surveys, conversion funnels, and form analysis.
Add Convertifire to your #marketing arsenal today!
You get access to features like:
– Record Sessions / Playbacks of Each Visitor
– Heatmaps by Clicks, Eye-Tracking, Scroll, and Elements
– Conversion Funnels & Form Analysis
– Feedback Polls & Surveys
– Desktop, Tablet, Phone Tracking
– Works on ALL BROWSERS
– In-Depth Analytics
All designed to improve user experience and #increase conversions. Helping you to grow your company easily!
This is what Fortune 500 companies use, Start-up use… And every successful marketer uses to increase #conversions and get more out of their #traffic!
The video features a case study where Stefan increased conversions with 512% and quadrupled his profits on his launch. All it took was 3 Simple Tweaks based on the data he got from Convertifire
The video on the page below also includes a demo of the software! (you'll be amazed of what this software can do!)
Convertifire – Spy On Website Visitors & Customers With Heatmaps And Behavioral Recordings